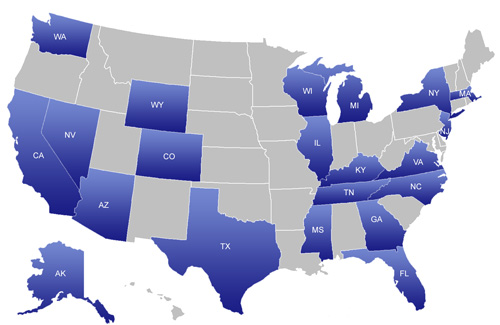 While Medal of Honor recipients are often better known and honored locally, their sacrifice is made on behalf of us all. This is evident in our efforts where the appreciation for both Captain Wilbanks' service and sacrifice, and our Nation's educational needs have broad appeal.
Through July of 2014 we have received contributions from twenty-three different States. You can see the complete list of donors to the Foundation by clicking here.
In addition, individual contributors have the unique opportunity to contribute through the Amazon Smile program. The complete details concerning this important program can be accessed here. It is through programs like Amazon Smile that one can make a difference, one purchase at a time. There are no costs to you, and means a lot to us; so sign up today.
We hope you will join our efforts by supporting our scholarships financially and help complete this map. But we also believe that becoming involved in your local schools and veterans programs is vital for the future of our Country.
Copyright 2014 Hilliard A Wilbanks Foundation, Inc.