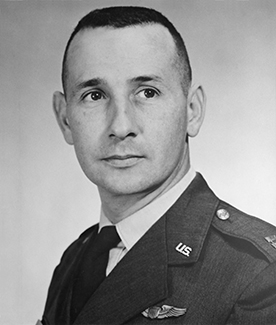 Captain Hilliard A. Wilbanks was posthumously awarded the Congressional Medal of Honor for his gallantry during the Vietnam War.
As a Forward Air Controller, Captain Wilbanks had already flown 487 combat missions and been awarded the Air Medal. On February 24, 1967, Captain Hilliard A. Wilbanks, was dispatched in an unarmed observation aircraft to assist in an operation against enemy forces who were attacking near Dalat, South Vietnam.
While flying reconnaissance for a South Vietnamese Ranger Battalion, Captain Wilbanks discovered that hostile units were concealed on two hilltops. He immediately called for helicopter gunship support by radio, and alerted the Rangers advancing into the area.
Realizing that their ambush was being compromised, the enemy reacted with a barrage from mortars, machine guns, and automatic weapons. Captain Wilbanks received much of this fire as he marked the enemy positions with white phosphorus rockets for the gunships. He personally began firing with an M-16 rifle that he carried in his plane. Firing out of the side window of his plane, Captain Wilbanks distracted the enemy troops and momentarily slowed their advance.
The outnumbered Rangers were afforded a chance to withdraw as the attackers diverted their fire against Captain Wilbanks' plane. Despite his plane being hit repeatedly by enemy fire, Captain Wilbanks persisted in covering the withdrawal. On his third pass, he was severely wounded and crashed in the battle area. The Rangers managed to rescue Captain Wilbanks from the wreckage of his plane, but he died while being evacuated to a hospital.
For his heroic support of the Rangers, Captain Wilbanks was posthumously awarded the Medal of Honor. The presentation was made to his widow by Secretary of the Air Force Harold Brown at the Pentagon, Washington, D. C. on January 24, 1968.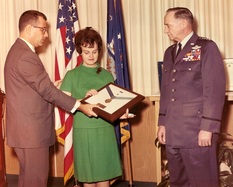 January 24, 1968 The Secretary of the Air Force, the Honorable Harold Brown, posthumously presented the Medal of Honor to Captain Wilbanks' wife, Rosemary, at the Pentagon, Washington D. C. Chief of Staff General G. P. McConnell looks on.